The light fittings production in Steinschoenau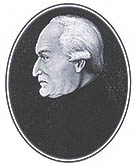 In 1724, Josef Pallme (-Mahl) of Parchen obtained a licence to make chandeliers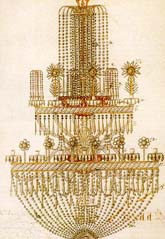 Josef Pallme definitely was not the only producer of first-rate chandeliers of that time, but his company established the tradition which has later been developed by other companies too.
Pallme's chandeliers were extremely popular with the then aristocracy.
The King of Spain, for instance, purchased a set of chandeliers between 1746 and 1759 for his royal palace in Madrid (we can see them there even today).
Pallme's chandeliers illuminate also most
beautiful Bohemian chateaux such as
Veltrusy, Mnichovo Hradiste or Hluboka
nad Vltavou and many other exquisite places.

After Josef Pallme's death, the management of the company was taken over by his brother Christoph who had traded in glass in Holland already since 1732. The company's heyday dates between 1815 and 1847, when it was managed by Ignaz Pallme.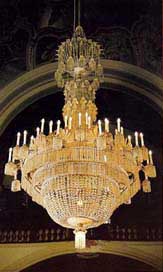 From the beginning of the 18th century, the Steinschoenau-based producers had to face many competitors from England and France. Despite such conditions, the Steinschoenau-made chandeliers won medals at the international exhibitions.
The chandeliers made by Josef Zahn of Chribska, Ignaz Pallme of Prachen and newly established company of Frenzl and Walter, for instance, were all awarded medals at such important events. They successfully competed even with the chandeliers designed by the well-known Vienna-based Lobmeyer company. The Elias Pallme company was awarded a medal of merit at the 1873 Vienna World Exhibition and at the 1888 exhibition in Barcelona as well. The company's extensive participation in exhibitions bore not only such fruits as medals, but also many lucrative business contracts until 1945.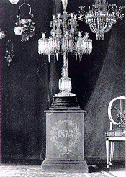 In the latter half of the 19th century, glass chandeliers designs were gradually adapted for new sources of light. Candles were replaced with kerosene, gas and, eventually, with electricity. Elias and Reinhold Pallme established a co-operation with the Prague Frantisek Krizik factory, which supplied electrical illumination to private and public customers.
A glass chandelier, adapted to use electric power, was displayed at the 1900 Paris World Exhibition.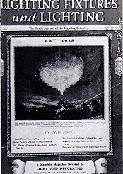 A glass chandelier of the first half of the 20th century was conceived as a decorative accessory of luxury private interiors, but - in its more monumental form - it also illuminated public places. In 1928, Elias Pallme equipped the Royal Opera Building in Rome with a glass chandelier - the world's largest light fitting of the time. Bohemian chandeliers were installed also at Milan's La Scala, Brussels' Theatre de la Bourse, and New York's Waldorf Astoria Hotel.

This is a short summary of the tradition. The Steinschoenau-area companies ranked among the world's biggest producers of cut-glass chandeliers made of the genuine Bohemian crystal. The company's specialty were also chandeliers made with the use of world-unique and secret overlay enamel and high enamel techniques (see the High Enamel).
(Source: History of Crystal Chandeliers, by Ingrid Solfronk; Members of the different Palme-Mahl families; Lustry Preciosa, Kamenicky Senov; Museum Bellerive, Zurich)